Sign up to receive our Center Newsletter!
HOW IS OUR SUPERFUND CENTER ORGANIZED?
Before getting to know our work, get to know our Center. The NC State Superfund Research Center (NCSU SRP) has four Projects and four Support Cores: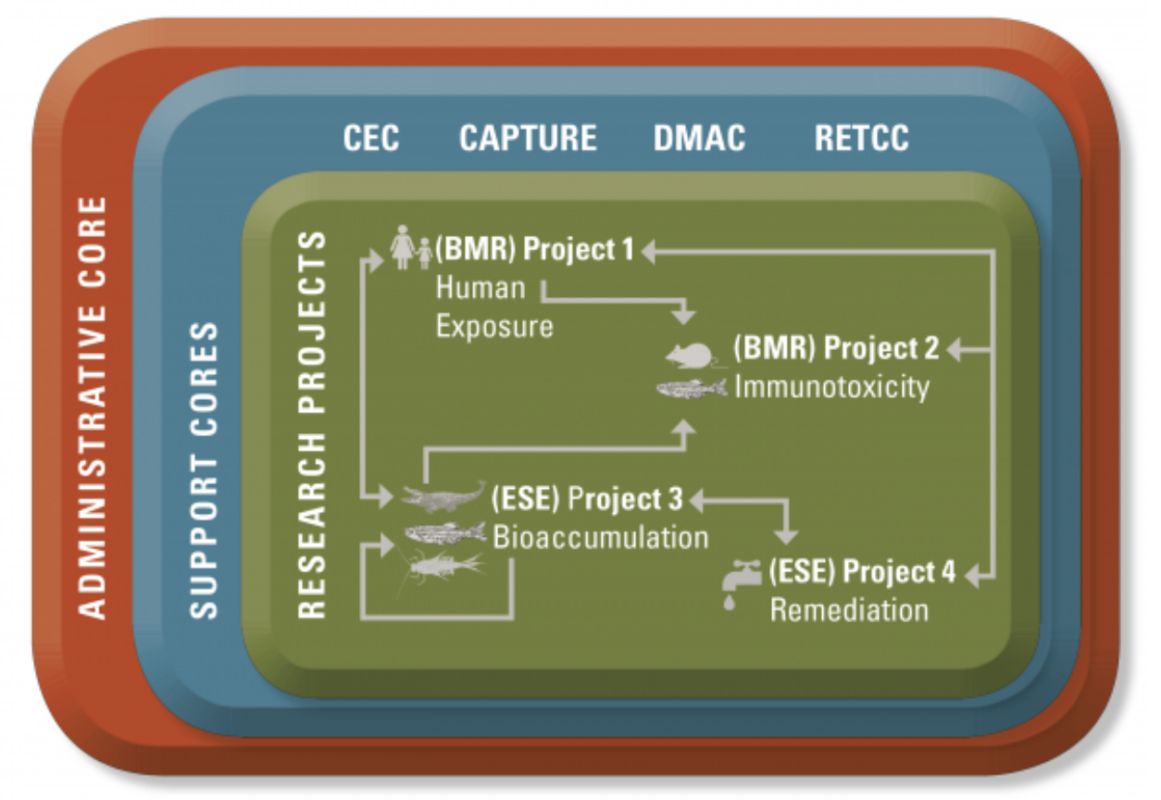 RESEARCH AND CENTER UPDATES
Reaching communities impacted by PFAS contamination
NC State's Superfund Center Community Engagement Core's (CEC) Director, Katy May, and Coordinator, Grace Campbell, have been busy developing educational resources on PFAS topics and coordinating outreach events for impacted communities.
In April 2021, the CEC launched the "PFAS Hub: Community Resource Page," which centralizes infographics, maps, exposure information, government guidelines, health effects information, and more related to PFAS from trusted sources. The page also houses resources that the CEC created in response to suggestions made by our community partners such as, "How to choose a PFAS water test," "How to choose a water filter to remove PFAS," "1,4-Dioxane Factsheet and Treatment Options."
On the CEC's PFAS Hub, you can also find the Center's PFAS Health Blog. The CEC wrote two blogs on health topics related to PFAS contamination: "Could PFAS exposure impact your response to COVID-19?" and "What is a cancer cluster?". The CEC partnered with the Centers' scientists, Jamie DeWitt (Project 2 Co-investigator) and Suzanne Lea (Project 1 Co-investigator), to provide the most accurate science on these complicated and pressing topics.
In October 2021, the CEC organized and hosted a Community Health Day in conjunction with a recruitment event near Wilmington, North Carolina associated with Project 1. Through this event, the CEC connected with over 50 different organizations working to promote health and wellness in the greater Wilmington area, and had 20 organizations that provided resources on healthy eating, COVID-19 vaccines, housing and more – resulting in a successful day of community engagement.
In December 2021, the CEC also hosted our first Community Advisory Group (CAG), which includes a diverse network of environmental and health advocates, water utility managers, firefighters, real estate agents, chefs, school superintendents, and others. The mission of our CAG is to gather insight and feedback from a range of stakeholders who are impacted by PFAS contamination and increase awareness among groups of PFAS-impacted communities who might be unaware of the issue.
The CEC looks forward to developing resources to support and educate those impacted by PFAS contamination.
We are continually adding resources to the PFAS Hub, if you have any suggestions for resources to add, please contact Grace Campbell at gecampbe@ncsu.edu.
Follow the Food Chain: Scott Belcher from Project 3 looks at PFAS accumulation in aquatic life
Elevated PFAS levels in the Cape Fear River Basin, North Carolina have not only impacted drinking water supplies, but have also led to the presence of PFAS in aquatic wildlife. NC State Superfund Center Project 3 Co-Investigator, Scott Belcher, is looking up the food chain to understand the presence and health effects of PFAS in Cape Fear River Basin alligators and fish.
In 2018, Belcher and Project 3 researchers tested 56 striped bass, which sit near the top of the food web, from the Cape Fear River and found that the bass had high levels of 11 different PFAS. Belcher suspects that the presence of PFAS in striped bass has limited their ability to reproduce, contributing to the steady decline in River Basin striped bass numbers over the last half century.
PFAS contamination and a decreasing striped bass population may also represent an issue of environmental justice. Belcher points out that over 30,000 subsistence fishing licenses are registered annually in North Carolina and many low-income residents rely on subsistence fishing.
At the top of the food chain, Belcher is also looking at the presence of PFAS in alligators, an apex predator and keystone species. Since 2018, Belcher and Project 3 researchers have collected blood samples from hundreds of alligators from sites along the Cape Fear River with known industrial exposures and sites outside of the River Basin with lower PFAS levels. In the higher-exposed alligators from the Cape Fear River, Belcher is seeing evidence of human-like-lupus autoimmune disease—the first evidence of autoimmunity in any reptile species.
Alligators are an especially interesting sentinel species, or early indicator of risks to humans, because their life expectancy is comparable to that of humans. Alligators and humans also share similar immune and endocrine systems as well as PFAS routes of exposure to drinking water and fish consumption.
Throughout these studies, Belcher works to incorporate community engagement into his research. Our Center's community partners, Cape Fear River Watch and Haw River Assembly, joined Belcher in the field to learn and assist with sampling. The North Carolina Autism Association also attended a sampling day to learn more about PFAS contamination and current research in the Cape Fear River Basin.
Belcher looks forward to continuing to learn about the presence of PFAS in aquatic life and furthering his partnerships with community members and volunteers to expand the knowledge of PFAS contamination. The Center is excited to see where his work leads!
Detlef Knappe explores current PFAS science in new review
Detlef Knappe, NC State Superfund Center Deputy Director and Project 4 Principal Investigator, is excited to announce the publication of "Per- and Polyfluoroalkyl Substances (PFAS) in the Environment" on February 4th in the journal Science. As a co-author of this review paper, Knappe was tasked with highlighting the current state of knowledge of and challenges associated with PFAS remediation technologies.
Common remediation strategies focus on removing PFAS from environmental media such as water, air, and soil. However, they generate waste streams that need to be managed. Examples include PFAS-laden granular activated carbon (GAC) and ion-exchange resin, or wastewater from reverse osmosis membranes. Disposal options for these waste streams can create a new source of PFAS. For example, incinerating PFAS-laden ion-exchange resins may create products of incomplete destruction that can be reintroduced into the environment. Likewise, disposing of PFAS-laden GAC in landfills does not end the contamination. For example, PFAS in landfills can be reintroduced into the environment via landfill leachate and landfill gas. 
Ideally, remediation approaches would transform PFAS into harmless products. Because of the extreme strength of C-F bonds in these "Forever Chemicals", PFAS are particularly difficult to "destroy", or mineralize (the transformation of organic chemicals like PFAS into inorganic constituents, such as fluoride, carbon dioxide, and water). Remediation strategies that "destroy" PFAS can be associated with large costs and energy inputs, and may potentially create additional PFAS, if mineralization is incomplete, and/or chemical byproducts that further perpetuate environmental contamination.
Given the complexity of PFAS and PFAS remediation, Knappe suggests that there is a need to minimize the use of PFAS and find long-term solutions to waste-management approaches that ensure the total destruction of PFAS.
The review paper also points to the ongoing need to advance PFAS science and enact upstream actions that facilitate transitions to safer alternatives and reduce human health and environmental impacts. Knappe hopes this review paper will reach large audiences, and inspires policy solutions as well as research to fill knowledge gaps to facilitate these changes.
AWARDS, HONORS, AND RECOGNITIONS
NCSU SRP Member Jane Hoppin wins Holshouser Award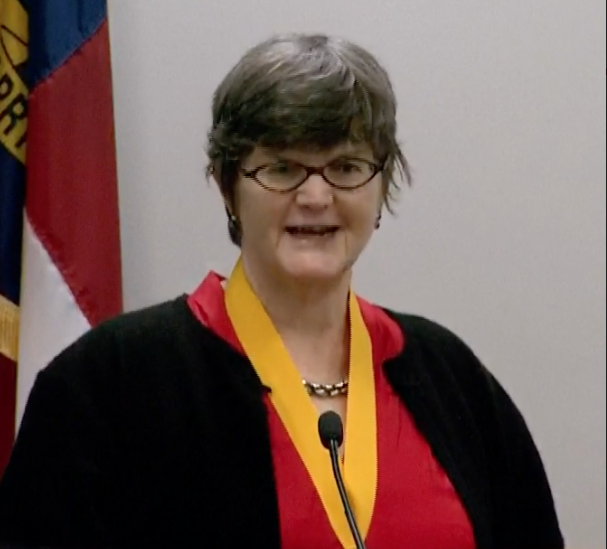 Project 1 Principal Investigator, Jane Hoppin, was awarded the The Governor James E. Holshouser, Jr. Award for Excellence in Public Service. Faculty that demonstrate excellence in encouraging, identifying, recognizing, and rewarding public service from any of the 17 institutions of the University of North Carolina are eligible.
NCSU SRP Member Morton Barlaz elected as fellow for the American Association for the Advancement of Science (AAAS)
Project 4 co-Investigator, Morton Barlaz, was elected as AAAS fellow – the world's largest scientific society and publisher of the journal Science. Dr. Barlaz was chosen for his distinguished contributions to the field of environmental engineering.
NCSU SRP Member Erin Baker is our newest Faculty Scholar
CAPTURE Director, Erin Baker, was named into NCSU 2021-22 class of Faculty Scholars. Dr. Baker was recognized for her outstanding academic achievements and contributions to NC State through her teaching, scholarship, and service to the university and beyond.
NCSU SRP Member Jeffrey Yoder receives new NIEHS grant
In Aug 2021, Project 2 co-Investigator, Jeffrey Yoder, was awarded a new grant from the National Institute of Environmental Health Sciences (NIEHS) titled "Linking PFAS exposure to thyroid disruption and innate immunity".
TRAINEE UPDATES
NSCU SRP Drake Phelps wins 1st place at SETAC North America 42th Annual Meeting for talk "Comparing the Respiratory Burst In Vivo and In Vitro After Exposure to Per- and Polyfluoroalkyl Substances".
NCSU SRP Adrian Green awarded 2022 Elsevier Postdoctoral Award by the Society of Toxicology Computational Toxicology Specialty for abstract "Pattern recognition in high-dimensional zebrafish behavioral studies using autoencoder based deep learning".
NCSU SRP Chuhui Zhang's poster was one of four selected for a best poster award at the Fluoros 2021 Conference.
NCSU SRP Kylie Rock wins second place at NC Society of Toxicology for presentation titled "PFAS Exposure is Associated with Autoimmunity in the American Alligator".
NCSU SRP Sarangi Joseph wins 3rd place with her submission in the Virtual SRP Summer Scientific Art/Photo Competition within the Laboratory Experiments category.
NCSU SRP MaKayla Foster ties for 3rd place with her submission in the Virtual SRP Summer Scientific Art/Photo Competition within the Field Experiments category.
Four NCSU SRP trainees participated in a training titled "Practical Approaches to Community Engagement" hosted by Southeast SRP Centers in Aug 2021
Anna Boatman
Nnamdi Osakwe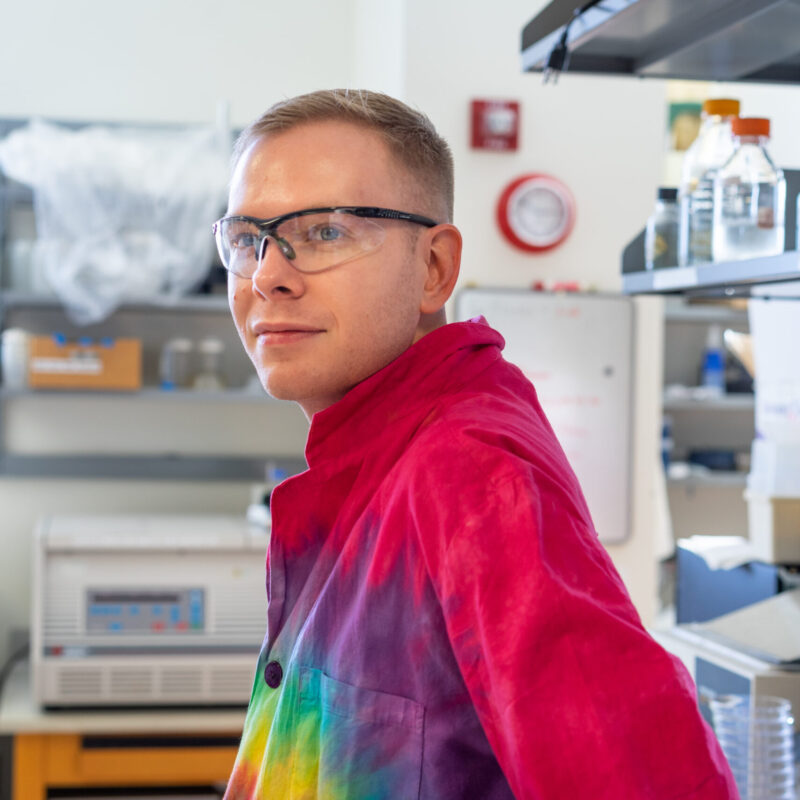 Drake Phelps
Dylan Wallis
CENTER EVENTS: PAST, PRESENT, AND FUTURE
NCSU SRP Dr. Jamie DeWitt presents on emerging PFAS research
On Oct 1st, Project 2 co-Investigator Dr. Jamie DeWitt presented "Per- and polyfluoroalkyl substances: Emerging research for not so emerging contaminants" at the Duke Integrated Toxicology & Environmental Health Program's Fall 2021 Series.
NCSU Dr. Jeffrey Yoder's SRP trainees – Ashley Connors and Drake Phelps – present at several conferences
PhD Candidate Ashley Connors presents:
"How Do PFAS Affect Macrophage Function?" at the Zebrafish Disease Models Conference in Oct 2021 and at the Society of Environmental Toxicology and Chemistry (SETAC) Conference Nov 2021.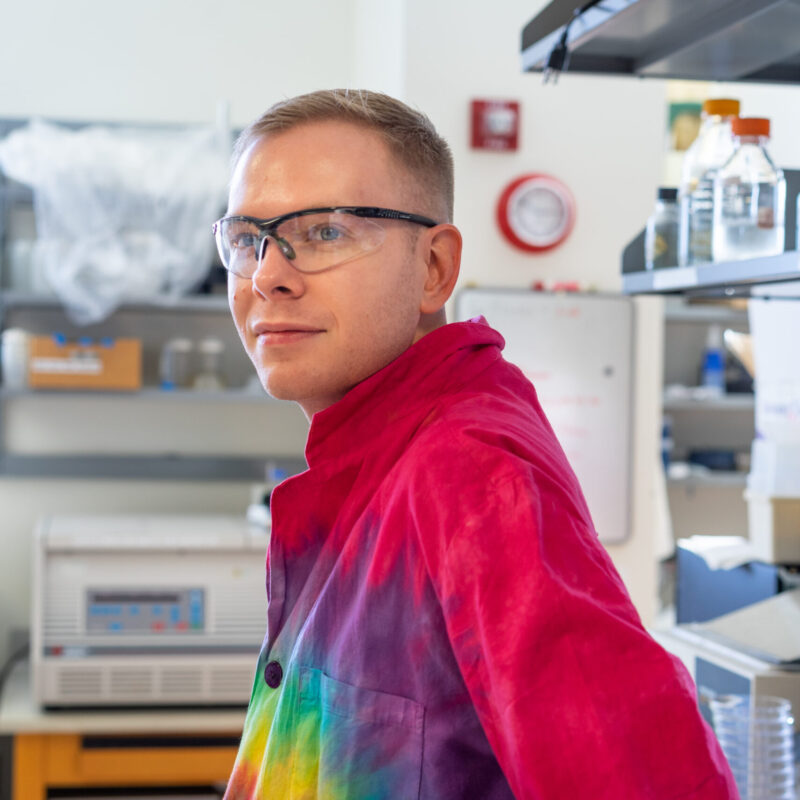 PhD Candidate Drake Phelps presents:
"PFAS Inhibit the Phagocytic Respiratory Burst" at the Society of Toxicology Annual Meeting in Mar 2021.
"Comparing the Respiratory Burst In Vivo and In Vitro After Exposure to PFAS" at the Zebrafish Disease Models Conference in Oct 2021 and at the Society of Environmental Toxicology and Chemistry (SETAC) Conference Nov 2021.
PFAS IN THE NEWS
Sick Gators?
PFAS 'forever chemicals' are making alligators sick. See the PBS interview with SRP Members Dr. Erin Baker and Dr. Scott Belcher and MaKayla Foster (SRP Trainee).
NCSU SRP Jane Hoppin interviewed on CBS 17 on PFAS research in Pittsboro
Dr. Jane Hoppin explains: "We wanted to go upriver and include Pittsboro in our understanding of PFAS exposure throughout the basin [referring to the Cape Fear River Basin – the area of focus for the NCSU SRP with historic PFAS contamination], as well as trying to focus on what the potential health effects could be … The Cape Fear is a long river and so that would also be very interesting to ultimately get those resources." Click here to see more of Jane's interview.
EPA Administrator, Michael Regan, Visits NC State to Announce New PFAS Policy
U.S. Environmental Protection Agency Administrator Michael Regan visited NC State in Oct 2021 to announce the EPA's new "PFAS Strategic Roadmap" to address PFAS contamination. North Carolina native and previous Secretary of the North Carolina Department of Environmental Quality (DEQ), Michael Regan stated that battling PFAS contamination was one of the toughest issues he faced during his tenure as the head of the NC DEQ.
NC State researchers using pine needles to study forever chemicals
SRP Members Dr. Erin Baker and Dr. Scott Belcher, and SRP Trainee Kaylie Kirkwood, were interviewed by WRAL Channel 5 on the use of pine needles to understand exposures to PFAS chemicals near air emission sources. Read the article here.
NC Governor, Roy Cooper, signs an Appropriations Act, which includes PFAS funding to map the emerging compounds in NC
This law will provide funding to NC State and other institutions to increase our understanding of PFAS toxicity, improve our mechanisms for action, monitor bioaccumulation, and to further remediate the spread of these forever chemicals.
Subscribe to the Center Newsletter below