Sign up to receive our Center Newsletter!
HOW IS OUR SUPERFUND CENTER ORGANIZED?
Before getting to know our work, get to know our Center. The NC State Superfund Research Center (NCSU SRP) has four Projects and four Support Cores: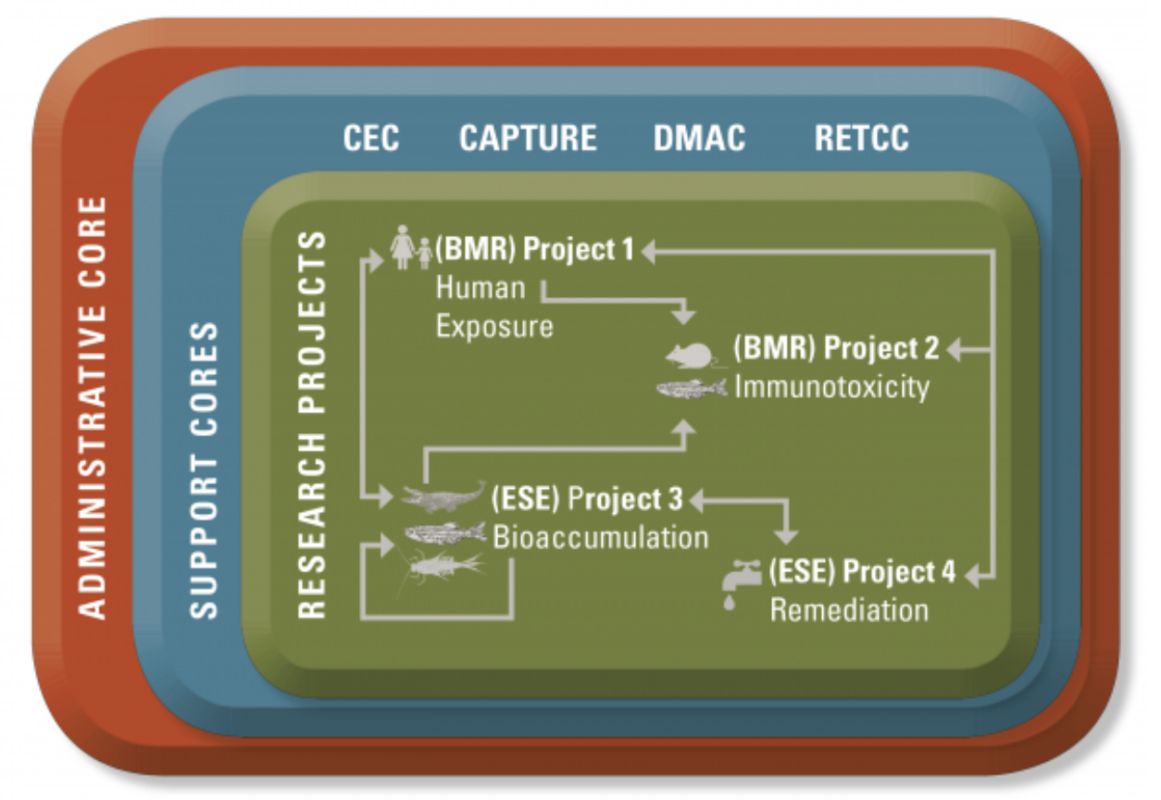 RESEARCH AND CENTER UPDATES
NC State Superfund CAPTURE Core Director, Erin Baker, discusses how CAPTURE assists the Community
During 2022, NC State's Superfund CAPTURE group has provided advanced PFAS analytical services to a wide variety of clients both within NC State University and in the larger community. These projects have included collaborative works with the US EPA, NC DEQ, and concerned community members throughout North Carolina.
In one of the community evaluations, CAPTURE researchers evaluated PFAS in sea foam from different areas in Wilmington, NC such as near the ocean and from downspouts. CAPTURE was able to verify the existence of Chemours-specific compounds in this unique matrix and additional samples are currently being collected to further assess the chemicals.
Over 1400 additional PFAS sample evaluations were also performed in 2022 on matrices including serum, water, periphyton, zebrafish and mayflies. The study topics for these samples range from drinking and environmental water contamination, PFAS detection in human serum, and PFAS remediation efforts. However, a majority of the samples evaluated have been serum from people in North Carolina to understand how much PFAS is in their blood and if it affects other molecules in the body such as lipids.
From model to mammal: Dr. Jeff Yoder uses toxicological models to better understand how PFAS impact the human immune system
PFAS are associated with a range of health effects, including negative impacts to the immune system. NC State Superfund Center Co-Investigator Jeff Yoder (Project 2), alongside Superfund trainees Drake Phelps and Ashley Connors, investigates how different PFAS affect the immune response using animal and cellular models.
Yoder and his team are focusing on 10 PFAS known to be present in North Carolina waterways and in the serum of individuals living in the impacted community of Wilmington, NC. To understand their impact on the immune system, they are screening effects of these compounds on two important cell types in the innate immune system: neutrophils and macrophages. They seek to understand the molecular mechanisms underlying any functional changes they observe in response to PFAS exposures.
Graduate trainee Drake Phelps used three different models to understand how PFAS affect neutrophil function: zebrafish larvae, an established human cell line, and primary cells from human donors. After 96 hours of exposure to different PFAS, the team observed that three compounds (GenX, PFHxA and PFOA) inhibited neutrophil function in zebrafish, the cell line, or both. GenX was found to impact neutrophil function in both of these models, and also impacted the function of neutrophils from human donors after a 24 hour exposure. Yoder points out the significance of this observation considering that a portion of North Carolina residents have been drinking water with GenX for over 40 years. Using a multi-omics approach, Yoder is excited to take the next steps to understand exactly how these three PFAS cause these impacts to neutrophil function. Third year graduate trainee Ashley Connors is also beginning her research to screen the PFAS for their impacts on macrophages.
Zebrafish is the primary animal model in Yoder's lab as they are especially useful models for immunotoxicology – they are small, easy to breed with high fertility and fecundity, and they develop immune cells (neutrophils and macrophages) within 1-2 days after fertilization. In addition, the zebrafish genome encodes homologs of 70% of all human genes making them a strong genetic model for human health. Two major advantages of using zebrafish larvae for these specific studies are that 1) like humans, they are a "whole animal" that includes organs (like the liver) that could break down or change the impact of these chemicals, and 2) zebrafish larvae are small enough to rear them in 96-well plates allowing for high throughput exposure screens. By using both zebrafish and human cell lines, these studies can determine if the response to PFAS is evolutionarily conversed from fish to human and thus important to neutrophil function in people and in wildlife. Yoder believes that the combination of these experimental models will provide extremely useful information about how PFAS disrupt immune function and will help us better understand how they impact human health.
The 3rd National PFAS Conference: "A Community-centric Experience"
Words from Clean Cape Fear co-Founder, Emily Donovan
Clean Cape Fear is a grassroots community group that formed in June 2017 after learning about PFAS contamination in the Cape Fear River—our primary source for drinking water. We also sit on the leadership team for the National PFAS Contamination Coalition (NPCC), a group of over 30 impacted communities from 22 states working on PFAS contamination at the federal level.
Clean Cape Fear worked closely with the NPCC and both NC State's and University of Rhode Island's Superfund Centers to host the 3rd National PFAS Conference in Wilmington, NC this past June. Together, we crafted a community-centric experience.
Impacted community groups were not only invited to attend and speak at the June conference, they were given a seat at the planning table to help craft the agenda and speaker lists for the entire event. Extensive financial considerations were made to ensure travel costs were not a barrier of participation for impacted community groups. It was also the first time this conference series was held at a contaminated community location.
The conference took place at Cape Fear Community College in downtown Wilmington, NC over three days from June 15 – 17th. It included 56 speakers from 22 states, plus DC, and featured over 60 poster submissions. The event kicked off with a special keynote from the U.S. EPA's Office of Water Administrator, Radhika Fox, who used the event to publicly announce new federal health advisories for four PFAS–including GenX, which was first discovered in Wilmington's tap water. This announcement was a powerful moment for Clean Cape Fear and members of the NPCC who have worked hard these past five years at the federal level to get stronger regulations and greater access to health studies and testing. The rest of the conference emphasized addressing environmental justice concerns and building more inclusivity into scientific research; as well as, understanding federal policy gaps that adversely impact contaminated communities and how best to solve them.
Gratitude was also a big theme for this conference. Local teachers helped their students draw pictures or write thank you letters while learning about PFAS and local water quality issues. Clean Cape Fear collected over 200 drawings and letters, which were given to attendees and displayed throughout the conference venue as a "Wave of Gratitude."
It was an honor to participate in the planning of the 3rd National PFAS Conference and play host in Wilmington, NC. From ensuring reverse osmosis water was used for cooking and beverage services to organizing field trips to Brunswick's Northwest Treatment Plant and a riverboat tour along the Cape Fear River–it was a memorable and powerful conference. We look forward to the next conference in 2024.
To see recordings and view presentations from the Conference, see this link.
NCSU SRP Members and Trainees present at 2022 Society of Toxicology (SOT) Meeting
Scott Belcher presented a Symposium "All for One and One for All: One Environmental Health in Toxicology" and a poster "Gestational Cd Exposure in the CD-1 Mouse Sex-Specifically Disrupts Essential Metal Ion Homeostasis"
Hannah Starnes presented a poster titled "Comparative Assessment of PFAS Binding of Serum Albumin across Species Using Differential Scanning Fluorimetry"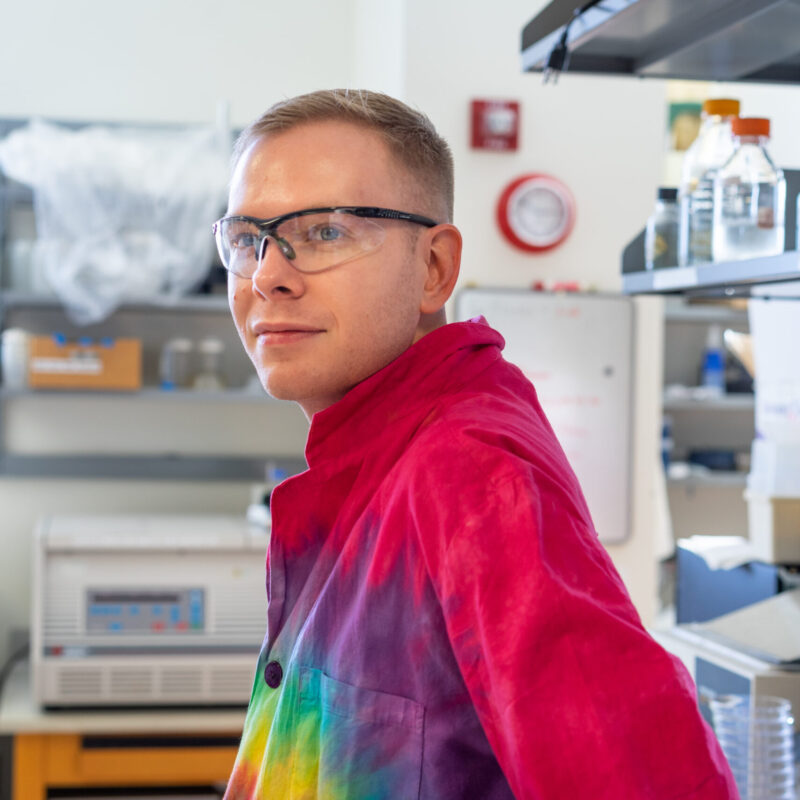 Drake Phelps presented a poster "Comparing the Respiratory Burst In Vivo, In Vitro, and Ex Vivo After Exposure to per- and polyfluoroalkyl substances"
Krystal Taylor presented a "Quantifying the impact of PFAS Exposure on B cell development and antibody production"
Kylie Rock presented a poster on PFAS Toxicity titled "PFAS Exposure Is Associated with Autoimmunity in the American Alligator"
NCSU SRP Member David Reif Presents at the DMAC Quarterly Meeting
David Reif presented at the Data Management and Analytical Core (DMAC) quarterly meeting on the inTelligence And Machine lEarning (TAME) toolkit for introductory data science, chemical-biological analyses, predictive modeling, and database mining for environmental health research. The project page (led by Julia Rager of UNC-Chapel Hill DMAC) can be found HERE.
NCSU SRP's Jamie DeWitt and Detlef Knappe Featured in WRAL News Article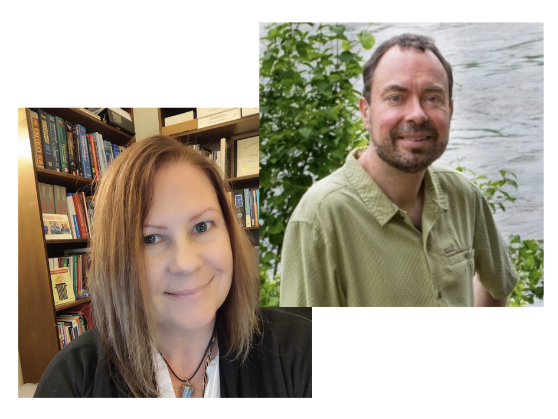 Jamie DeWitt – Research Translation Coordinator and Project 2 Co-Investigator, and Detlef Knappe – Center Deputy Director and Project 4 Principal Investigator, were featured in a local news report titled "Researchers make strides in five years since GenX first report in Cape Fear River". Check out the article HERE.
Scott Belcher teaching laboratory fundamentals of Endocrine disrupting chemicals
Scott Belcher taught laboratory fundamentals of endocrine disrupting chemicals, and invited experts on the subject for a "Endocrine-Disrupting Chemicals: Hazards and Opportunities" (ECHO) course taught at Woods Hole – University of Chicago Marine Biological Laboratory from May 25-June 9.
NCSU SRP Staff and Trainees participate in Iterative Design to Engage All Learners
NCSU SRP Member Scott Belcher and Jamie DeWitt and NCSU SRP Trainees Ashley Connors, Nnamdi Osakwe, Kylie Rock, and Krystal Taylor attended and assisted in the Iterative Design to Engage All Learners – Design Institute: Part II meeting at the University of North Carolina – Chapel Hill on June 20-22, 2022. To read more about this initiative please click HERE.
Scott Belcher
Jamie DeWitt
Nnamdi Osakwe
Kylie Rock
Krystal Taylor
Ashley Connors
AWARDS, HONORS, AND RECOGNITIONS
NCSU SRP Member Erin Baker Awarded the 2022 Biemann Medal
Erin Baker was awarded the 2022 Biemann Medal by the American Society for Mass Spectrometry. The Biemann Medal is awarded to individuals with high achievements in mass spectrometry. Congratulations to Erin!
NCSU SRP Trainee Nnamdi Osakwe Awarded Research Supplement
Nnamdi Osakwe, trainee in the DMAC/Dr. David Reif's Laboratory, was awarded a Research Supplement to Promote Diversity in Health-Related Research grant for his proposal "Building Comprehensive Models of Community Integrity and Community Engagement". Congratulations, Nnamdi!
Detlef Knappe Recognized for Work on PFAS Pollution
On June 7, the Wilmington City Council issued proclamations honoring Detlef Knappe and other NC State and EPA researchers for bringing research on GenX into the public consciousness and spur action from regulators and the state's politicians. You can learn more about the award HERE. Congratulations, Detlef!
Kylie Rock Wins the 2022 NC State Impact Scholar Award
NCSU SRP Trainee Kylie Rock, Project 3 – Scott Belcher's lab, won the 2022 NC State Impact Scholar award. This award allows Kylie to develop and further community engaged research capabilities with a focus on increasing scientific understanding of PFAS hazards within impacted communities. Congratulations to Kylie!
Scott Belcher representing the Endocrine Society and serving on several committees
Scott Belcher, NCSU SRP Project 3 Co-Leader, is a representative for the Endocrine Society committee. The overall goal of the committee is to develop internationally harmonized toxicity hazard test guidelines for quantitative risk assessment of chemical exposures including PFAS.
Belcher has also begun serving on:
The Working Group of National Coordinators of the Testing Guidance Programme
Working Party on Hazard Assessment
Extended Advisory Group on Molecular Screening and Toxicogenomics
Economic Cooperation and Development, "6th Meeting of the Working Party on Exposure Assessment"
NCSU SRP Member David Reif wins NIEHS award
David Reif, DMAC Director, has won an NIEHS Award for "Characterizing Gene-Environment Interactions that Affect Individual Susceptibility to an Expanding Chemical Exposome".
TRAINEE UPDATES
Welcome new NCSU SRP Trainee, Giuliano Ferrero! Joining Jeff Yoder's Lab, a part of NCSU SRP Project 2
NCSU SRP Trainees Hannah Starnes and Kylie Rock interviewed about their research on high levels of PFAS found in fish. Read the article HERE.
Nnamdi Osakwe featured in National Superfund Program Newsletter on "Using Bioinformatics to Improve Health Equity"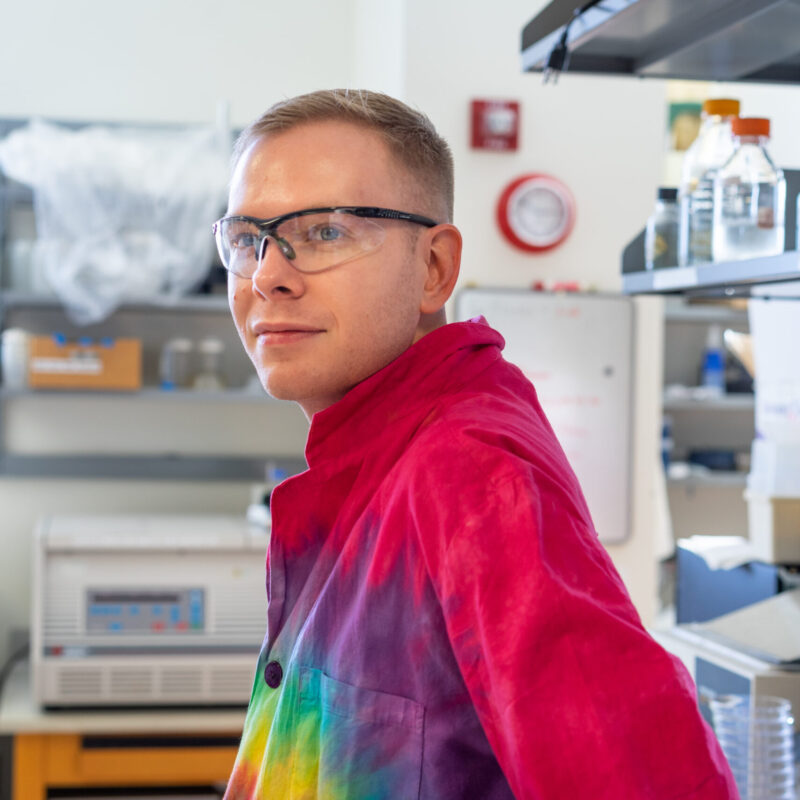 Drake Phelps presented a poster titled "Comparing the Respiratory Burst In Vivo, In Vitro, and Ex Vivo After Exposure to Per- and Polyfluoroalkyl Substances" at FutureTox V 2022
Kylie Rock gave a "One Health Case Studies: PFAS, Pine Trees, Pets, and Predators" presentation at US EPA Emerging Topics Seminar and Gordon Research Conference on Environmental Endocrine Disruptors (of which she served on the organizing committee)
CENTER EVENTS: PAST, PRESENT, AND FUTURE
3rd Annual PFAS Meeting in Wilmington, NC June 15-17th
NCSU SRP Community Engagement Core (CEC) hosts "PFAS in North Carolina: Current Knowledge and Ongoing Research" for NC General Assembly
The NCSU SRP CEC organized an informational meeting for NC General Assembly members to learn about PFAS in North Carolina, its impact on the state, and ongoing efforts by the Center to address these impacts. The event was hosted on August 5th and had 44 attendees!
New NASEM Report Call For Expanded PFAS Testing
A new report from the National Academies of Sciences, Engineering, and Medicine (NASEM) released on July 28th calls for expanded PFAS testing for people with a history of elevated exposure and offers advice for clinical treatment. The read the full report click HERE.
Upcoming! Superfund Research Program Annual Meeting to be held in Raleigh, NC from December 14-16th
NCSU SRP will be co-hosting the SRP 35th Anniversary Annual Meeting titled "Systems Approaches for Innovative and Inclusive Environmental Health Solutions" from December 14-16th. Learn more and register for the event HERE.
PUBLICATIONS
NCSU SRP Member Scott Belcher and NCSU SRP Trainee's Hannah Starnes, Kylie Rock, Thomas Jackson on "A Critical Review and Meta-Analysis of Impacts of Per- and Polyfluorinated Substances on the Brain and Behavior"
NCSU SRP Member and DMAC Director David Reif and NCSU SRP Trainee's Preethi Thunga and Dylan Wallis on "Systematic developmental toxicity assessment of a structurally diverse library of PFAS in zebrafish"
Scott Belcher and NCSU SRP Trainee Thomas Jackson on "Blood Concentrations of Per- and Polyfluoroalkyl Substances are Associated with Autoimmunity-like Effects in the American Alligator" in the Research section of the latest issue of the North Carolina Water Newsletter.
David Reif on "Development of the InTelligence And Machine LEarning (TAME) Toolkit for Introductory Data Science, Chemical-Biological Analyses, Predictive Modeling, and Database Mining for Environmental Health Research"
Subscribe to the Center Newsletter below